Personal branding is a trending topic for both bloggers and influencers, those looking to jumpstart their careers, and just about everyone in between.
In this post we'll cover a lot, including:
What exactly personal branding is & why you should care
Whether or not you should work on your personal brand
5 steps to getting started with your personal brand
Dos and don'ts of personal branding
Real-Life personal brand examples
And, next steps…
A personal brand can be defined in many different ways, but when it comes down to it, it's pretty simple…
Personal Branding Definition
A personal brand is simply how people describe you when you're not around.
Want an even more simple explanation? Here it is in one word.
Your personal brand is your reputation.
And guess what?
Even if you're not actively working to define your personal brand, it already exists.
If you have any sort of online presence, a job where you interact with others, or even if you simply go to school, the people who come in contact with you use this information to form opinions about you.
So, what do you think people are saying about you based on this information?
Do you think what they're saying is what you want them to say?
If you don't have a clue what people are saying, or if they're not saying what you wish they were, then you might want to start working on your personal brand.
And by the way, personal branding isn't just for people trying to build an Instagram account, blog, or YouTube channel.
Personal branding is for anyone who wants to help control the narrative of their own story.
Here are just a few examples of how personal branding can benefit you:
Set yourself apart from other job candidates with similar skills
Advance your career and impressing your boss and colleagues
Become an author and/or speaker in your industry
Become a premium freelancer, be able to charge more than your competition
Attract (and keep) and audience on your blog and social media channels
So, How do you know if personal branding is for you?
Ask yourself the following questions:
Have you ever been overlooked for a promotion at work you thought you deserved?
Do you get to work on the types of freelance projects you like to? Are you your customers first choice?
Are you a blogger or social media influencer who can't seem to get visitors to return to your website or profile pages?
A lot of people tend to misdiagnose why they're facing these challenges.
One of the most common ways is to blame setbacks on other people.
I get it. I've done it myself. I've gotten passed over on opportunities before and blamed it on other people not recognizing my talent or work ethic.
What I finally realized is, even if I was working really hard and doing great work, a lot of times this is not enough to reach your goals.
Why? Because people are making their decisions based on their perception of you.
And guess what – they probably didn't spend much time coming up with an opinion of you…
Other people are often so consumed with their own lives and challenges that you have to beat them over the head with the message of who you are.
It's nothing personal, it's just human nature. And there is a way to do it that isn't showboaty…
This is where personal branding comes in. This is how you can influence what people say about you when you're not around. To do this, you need to decide how you want to be perceived…
Almost anyone with mediocre work can attract someone to their website, or earn a job if the price is right.
But, people with a great brand are able command more because they're seen as the premium option…
Personal branding isn't about showing off,being phony, or talking about yourself all the time.
But it is about presenting yourself in the way you want others to see you.
(And no, that doesn't mean posting pretty Instagram photos or writing hilarious tweets.)
So, how do you get started with personal branding?
Step 1: Identify Your Strengths
Before you get started building your brand, you need to know what you're working for.
Find alignment between what you're good at and what you love to do. Start by asking yourself the following questions…
What are my interests and passions?
My strengths?
What do others ask me to help them with?
Your strengths and passions could be something doing in your current job, or it could be a hobby.
As the goal of personal branding is generally to advance your career goals in some way, you also want to find something that's marketable.Something people will pay money for.
If you're working to advance your career at your current job, you should make sure that the strengths and passions align with what you do at your company.
For example, you may love to make balloon animals, but if you want to be VP of Sales that's probably not going to help you very much at your job.
Step 2: Figure out your personal goals.
The next step to building your brand is knowing what you're working toward.
Do you want to be seen as a creative? A problem solver? An expert in a certain skill?
What kind of skills do you need to develop in order to reach these goals?
Do you want a traditional career, or would you rather be your own boss?
What kind of salary do you want to make?
What's your dream job?
Where do you want to be in 5, 10, 15 years?
Step 3: Determine Your Audience
Once you figure out what your personal goals are, you need to tie this back to who your audience is. Your audience is the key to fulfilling your goals.
If your main is goal is to advance at your current job, your audience is probably your boss, as well as your colleagues, other leaders at your company.
It could also be those in your industry locally, because you might want to keep your options open and look for a opportunity outside of your current company…
If you're trying to become an online influencer, blogger, or start your own freelance business, it will take a little more legwork to figure out who your audience is.
Answer the following questions to get started:
What type of niche do you want to serve (i.e. design, business, fitness, etc.)
Who will consume your brand?

How old are they? Where do they hang out (online and in person)?

What types of challenges do they face?
Also, keep your end goal in mind.
Maybe you want to be a beauty blogger on YouTube. If this is the case, the bulk of your audience is probably 12-30 year old women.
Perhaps you want to start a blog on scrapbooking. If this is the case your blog is probably going to be consumed by moms who want to preserve the memories of their families.
Maybe you're a photographer targeting soon-to-be married couples.
For the most part you can easily figure out who your audience is by looking at the competition. Look at their website and social media profiles. Observe who follows them and comments on their content and identify trends.
Step 4: Serve Your Audience
This is where you really get into the work of building your personal brand.
Now that you know what your goals are, and who your audience is, you need to do the work of putting yourself in the position of telling your story.
There are several ways to do this, but they depend on your goals.
If you're trying to get ahead at work, you need to think about how to improve your personal brand both at and outside of work…
At work:
Taking on more responsibility when opportunities arise. Say yes as often as possible (without burning yourself out).
Proactively think about ways you can help the company and present them to your boss.
Seek out educational opportunities that will help your company and your career.
Listen to your colleagues and boss to uncover the pain points they deal with everyday.
On Your Own:
Create a blog and produce content related to your career.

If your name is available as a .com domain (i.e. danielleramsey.com) I highly recommend purchasing it. You can check here.

Produce content relevant to your position and present it on social channels like LinkedIn as well as your blog. This will ensure your colleagues see your expertise in action as well.
Apply for speaking opportunities.

This will be much easier to do if you've built up an online presence where speaking committees can preview your content online.
If you're trying to build a personal brand online as a blogger, influencer, or freelancer, the key is to stand out from the crowd.
In general, you're going to be facing a lot more competition online.
At the very least, do these three things as you create content for your brand:
Focus on quality. 10 amazing blog posts are better than 30 mediocre posts. And, you never get a second chance to make a first impression.
Be original. If you only create the same or similar blog posts, images, or videos, as your competitors, you'll never stand out.
Remember your audience. Don't create content for yourself, create content that helps your audience. This is what will keep them coming back for more…
If you're targeting scrapbookers, create a post on how to take better family photos.
For wedding photographers, soon-to-be newlyweds, provide ideas for unique locations for an engagement shoot.
Step 5: Connect with Your Audience
You can't succeed in a bubble, eventually you need to get out and interact with your audience (even if you're audience is mostly online).
Of course, how you connect with your audience will differ based on your goals.
If you're trying to improve your career, this means joining meetups, organizations and participating in company events. Make sure to form positive relationships with your boss and colleagues as well.
Don't talk about yourself. Ask questions and really listen. This is how you can dial-in on the challenges at your organization and help provide solutions.
For bloggers, influencers, and freelancers this means connecting with your audience by responding to comments on social media and your website, and also meeting up with others in your industry or niche.
If you're on social media, get out their and interact with other top influencers. Comment on their posts, ask for advice, offer to help them (and maybe they'll help you in return).
And as you grow your brand larger, you can collaborate with other bloggers, influencers and freelancers to cross promote your content to grow your reach even further!
Dos and Don'ts of Personal Branding
DO
Don't

Be genuine.
Dress sharp at work.
Be controversial.
Listen.
Ask questions – figure out what keeps your audience up at night.
Own your own website
Ideally, your brandname.com

Talk about yourself too much.
Send mixed signals. Are you trying to say you're an expert in too many things? Is your content consistent?
Be too controversial.
Real-Life Personal Brand Success Stories
Here are a few examples of real-life people who have built a personal brand and how this has helped then succeed with their life goals…
Influencer Brand Story: Peter McKinnon – New(ish) YouTuber
One of my favorite personal brand success stories is YouTuber Peter McKinnon.
Why? Because he seemingly shot to YouTube stardom out of nowhere.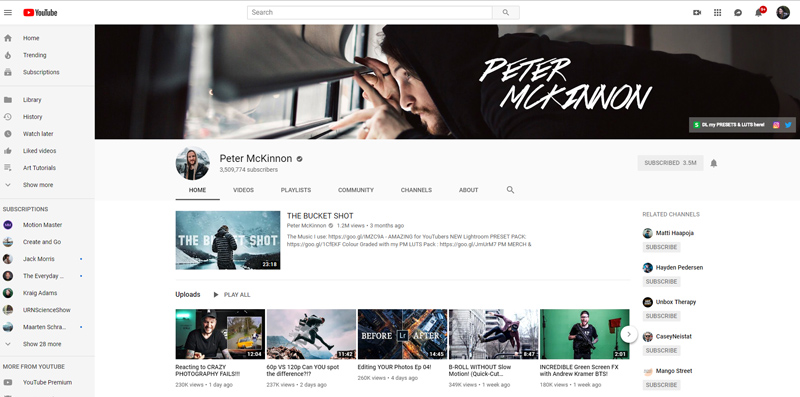 Peter is a photographer/filmmaker, and he's good. But there are lots of great photographer filmmakers out there.
So how does he have +3 million subscribers on YouTube and counting when he's only been making videos for a little more than two years while others have been grinded it out way longer?
He figured out his audience – he created several videos that were duds, but finally zeroed in on content his audience liked and kept creating more like it
Connected with his audience – his trademark intro, "What's Up Everybody," fun conversational tone, and intro sequence made him memorable.
Collaborated with other top YouTubers in similar niches like Casey Neistat to expand his reach
Career Brand Story: Rand Fishkin – Digital Marketing Expert
I've long admired Rand Fishkin, co-founder of SEO (search engine optimization) and analytics company MOZ. Moz is super well known and respected in the corporate SEO and marketing world.
A lot of this has to do with Rand focusing on his own personal branding and leveraging his reputation as an SEO expert to help his company succeed.
Rand is famous for his 'Whiteboard Friday' videos, blog posts, and speaking engagements at various marketing conferences.
He stays ahead of trends and writes meaningful blog posts instead of focusing on copycat content.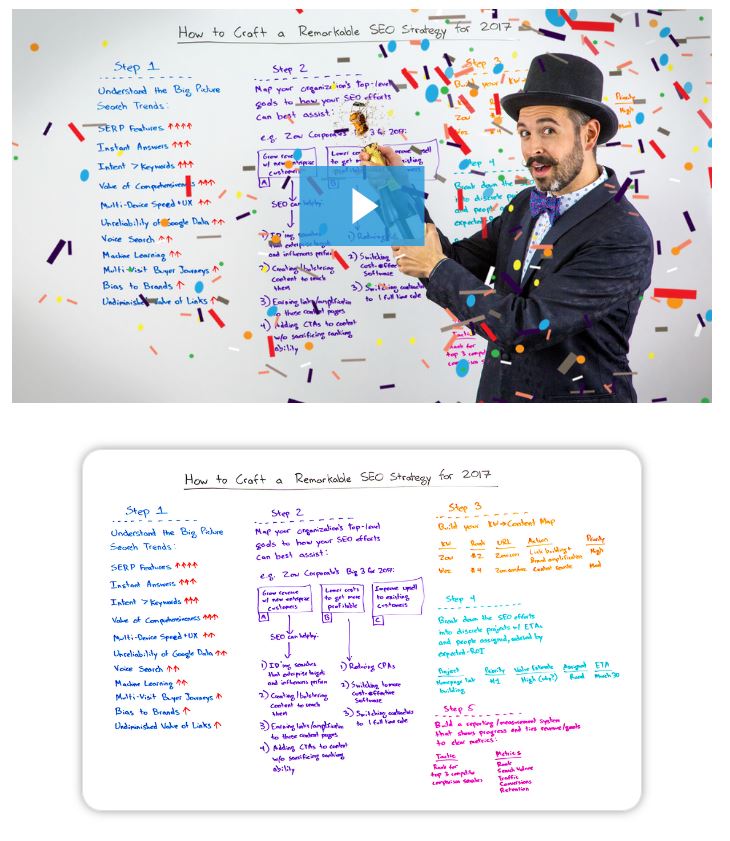 Rand is also very active on social media. Not by megaphoning his own content to users, but by listening and responding to his followers.
I can personally vouch for this. A few years back I asked him for advice on his video SEO strategy and he responded almost immediately.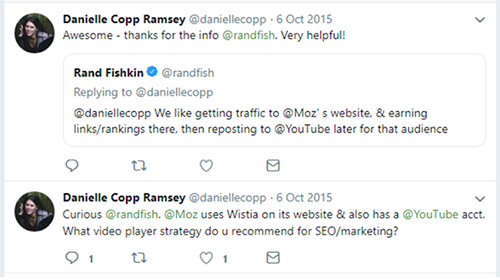 More recently, he released his second book, and is starting a new digital marketing business called Spark Toro (an audience intelligence marketing tool). Once again, he is the face of this new business which truly speaks to the power of his brand.
Rand is an exaggerated example of what individuals who build their personal brand to advance their careers can achieve by creating stellar content and actively engaging with their niche community.
Freelancer/Influencer Brand Story: Kraig Adams a Wedding Filmmaker
Kraig Adams is a former wedding filmmaker who created (first) a Vimeo channel and (later) a YouTube channel teaching others how to create wedding videos. I wouldn't call him a super-talented filmmaker compared to others – he's good, but not amazing.
However, by creating a Vimeo and YouTube channel teaching others how to create wedding videos he established himself as an expert in the field and was able to more easily find work.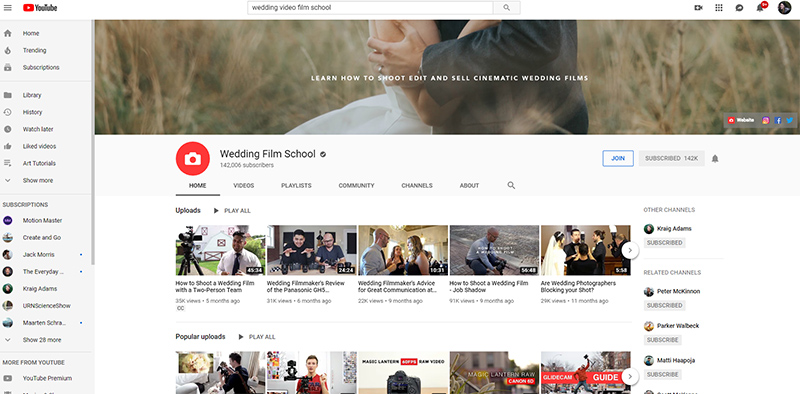 Not only that, but he used this channel to make money via affiliate marketing on top of his freelance wedding revenue.
One other reason I wanted to include Kraig in this example is, he also comes off as more quiet and more of an introvert. I like this because it's proof any personality can create a personal brand.
What's interesting about Kraig though is, he actually abandoned his 140,000+ subscriber channel a few months ago because he no longer had an interest creating wedding films.
He had the freedom to do this because of his work over the years creating his brand.
Now, he has his own branded YouTube page which talks a lot about making travel videos and a minimalist lifestyle, so he sort of converted his freelancer gig into a lifestyle/influencer brand gig.
He recorded a podcast/videocast a few months ago with another YouTuber where he details his personal brand story over the years if you're interested in learning more, click here to watch the interview with Kraig Adams.
Have any additional questions about personal branding? I'd love to answer them – comment below and I'll get back to you!
I've also written a ton of resources on branding that might help you if you're looking to go all in on your personal brand.