When it comes to Bluehost VS Squarespace, which to choose for your website depends on a few questions you need to answer for yourself:
What is the purpose of your website?
How much time and effort do you have to customize your website?
How much can you afford to spend on a website?
If you're making a website that only has a few pages, need something fast, and don't mind paying a premium, then Squarespace is probably the better choice for you.
However, if you want a more dynamic website with always growing content (i.e blog or podcast), a more customized design, and would like cheaper long-term prices, then Bluehost + WordPress is more likely to be the better choice for you.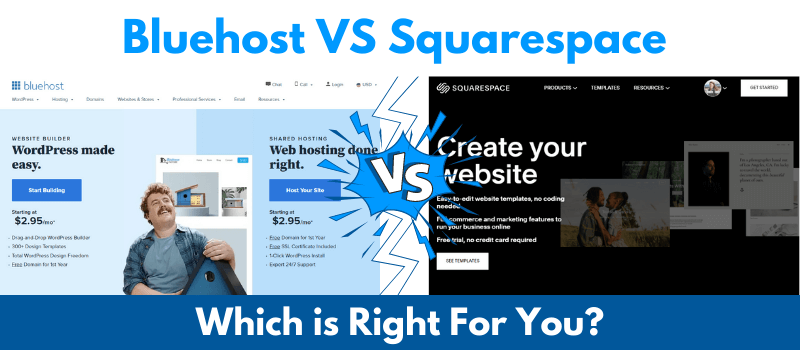 How is Bluehost Different from Squarespace?
Bluehost is technically a hosting provider, however, it is typically paired with WordPress and installed with Bluehost's popular "1-Click WordPress Install" when you sign-up…
So, when you're considering Bluehost, you'll also want to consider WordPress…
WordPress is the world's most popular website builder, it's also free, and is what most people use to create a website on Bluehost.
Squarespace on the other hand is a combination of hosting and website builder in one. When you buy Squarespace, you're buying both hosting and a website builder.
At the end of the day, both Bluehost and Squarespace will support drag-and-drop website editing. But, the steps to get there are slightly different.
Pricing Differences Between Bluehost & Squarespace
When it's all said and done, Bluehost is by far the cheaper website hosting option, especially when you start out.
You can get shared hosting on Bluehost with WordPress for as little as $2.95/month in your first year. Now, this does come with a caveat. Hosting providers like Bluehost almost always require an annual upfront payment of at least a year and pricing increases after your initial investment to $8.99/month.

Getting started with Squarespace is quite a bit more expensive per month than Bluehost at a minimum $12/month investment.
The cheapest monthly Squarespace plan costs $16/month. But, if you choose to pay ahead annually you'll get a 25% discount at $12/month.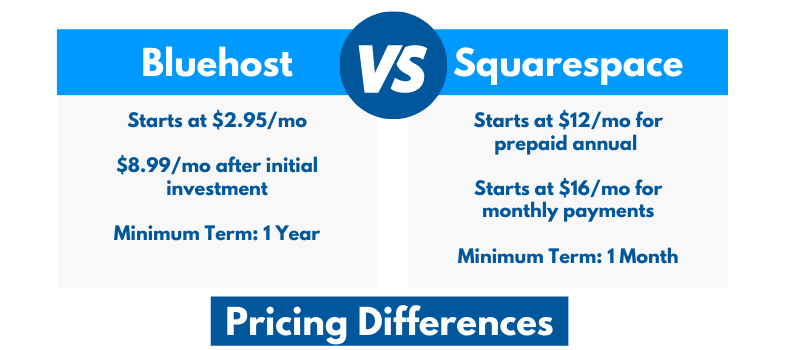 Ease of Use
Squarespace is likely the easier tool to learn without any technical skills. The whole concept of Squarespace is to make it as easy as possible for anyone to make a website.
After purchasing Squarespace, you pay, then you pick a template and get designing. You'll still need to learn how to navigate the builder, create pages, and edit the overall design. But, it's simpler to get started.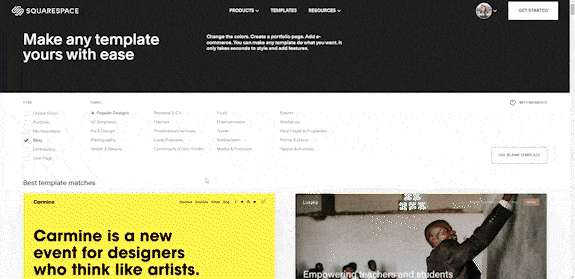 Starting a website on Bluehost/WordPress is similar, but there are a few extra steps. First, you'll be asked to pick an overall theme for your website (my favorite free theme is Astra).
From here, you can rely on your theme, but I recommend a page builder to everyone who uses WordPress.

Out-of-the-box, the WordPress page editor looks like a Word document. But, after you install a free plugin (I prefer Elementor), you'll unlock a robust drag-and-drop editor that rivals Squarespace.
Check out my free step-by-step tutorial on how to create a website with Elementor and WordPress if you're interested in learning more.
This leads me to the main benefit of choosing a Bluehost/WordPress solution… customization options.
Customization Options
WordPress has been a fixture of the Internet since the early 2000s. It is incredibly popular and currently accounts for around 40% of all websites on the Internet.
WordPress is continually updated with new features and since it's an open-source product, it is free. You only need a hosting provider like Bluehost to make your website live on the Internet.
Because of its popularity, nearly all web services you might use have something called "WordPress Plugins." These plugins help non-technical users solve technical problems quickly and efficiently.

Squarespace meanwhile, has integrations/plugins but is nothing compared to how many plugins you can choose from on WordPress.
Scalability
In terms of creating a larger, more robust website, Bluehost + WordPress is what I'd personally choose. There are many large corporate websites on the Internet that use WordPress.
And, if you need faster hosting, it's easy to upgrade your hosting.
With Squarespace, you're going to be stuck with the hosting, templates, and plugins provided. It's also a website builder that is better for websites with a set defined amount of pages.
WordPress was designed with ever-growing content in mind.
Ecommerce Capabilities
If you're planning to sell products on your website, then you'll need to consider how this works through Bluehost + WordPress versus Squarespace.
Let's start with eCommerce on Bluehost + WordPress.
Ecommerce support for WordPress is available through the free and very popular OpenSource plugin WooCommerce.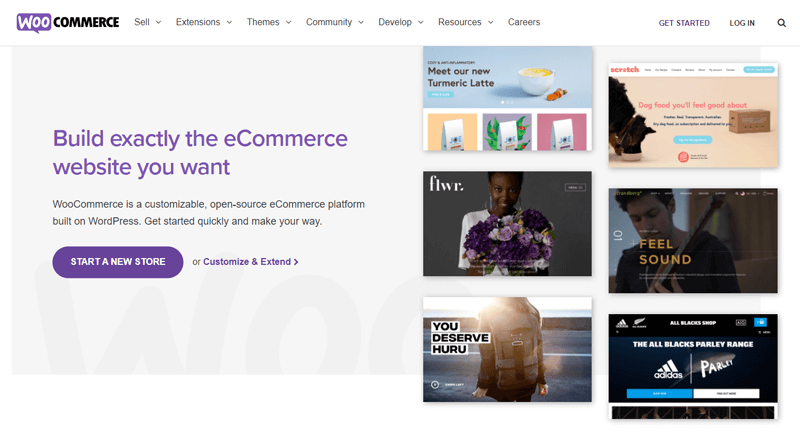 While this is technically free, there are costs associated with running any eCommerce website due to the nature of online selling.
For one thing, you obviously need hosting, which in this case, you'd be getting through Bluehost. You may also want to pay for a theme, however, Elementor and Elementor Pro are compatible with WooCommerce so you'll have a good amount of design flexibility.
You'll also need to consider shipping costs. WooCommerce comes with a free plugin that allows users to print and pay for USPS and DHL labels straight from your WooCommerce dashboard.
You also have the option to charge shoppers with flat-rate shipping, free shipping, or local pickup.
Finally, you'll need to consider your payment gateway. This is how you process payments on your online store. WooCommerce Payments charges 2.9% + 30¢ for each transaction paid for using a U.S. credit or debit card, and 3.9% + 30¢ for payments from other countries.
These extra charges are similar to what you'll spend with Squarespace.
The main benefit of Bluehost + WordPress + WooCommerce is the ability to customize your website into anything you want. The tradeoff is that it will be a more complicated build than Squarespace.
Ecommerce on Squarespace
The biggest downside to eCommerce on Squarespace is that you'll need to upgrade to a more expensive plan than the basic plan to sell products at all.
The cheapest of these plans is $26/month if you pay monthly, and $18/month if you commit to a full year.
Also, the cheapest plan also takes a 3% cut of all transactions in addition to the payment processing fees you'll need to pay.
To avoid these fees you'd need to upgrade to a more expensive plan that costs $35/month if paid monthly and $26/month when paid ahead annually.
On top of this, you'll still need to consider your shipping costs and credit card processing fees. Squarespace connects to Strip and/or Paypal. You'll need to set up with one of these services before collecting payment on a Squarespace website.
Stripe charges 2.9% plus 30¢ per transaction. Paypal has more complicated merchant fees, but it's similar to Stripe per transaction.
Bluehost/WordPress/WooCommerce VS Squarespace for Ecommerce: Which Should You Choose?
Ecommerce on Squarespace can quickly add up if you're price-conscious. However, it's a bit simpler to set up if you're not super tech-savvy and want to sell your products as quickly as possible.
WooCommerce will take a bit more elbow grease, but it is more customizable and cheaper in the long run.
So, Which Should You Choose: Bluehost or Squarespace?
Both Bluehost (with WordPress) and Squarespace are reputable and easy ways to get started with a website or blog. The decision which to choose depends on your end goals and what you plan to use your website for.
If your website is simply meant to be an online brochure for yourself or your business, then Squarespace is probably the path of least resistance.
But if you're hoping to grow your website both in terms of traffic and content over time, then Bluehost with WordPress is more likely to be the right choice for you.
If you're interested in signing up with Bluehost, check out my setup guide for Bluehost and WordPress.
Once you get WordPress and Bluehost installed, here is my guide for creating a website from scratch with Elementor on WordPress.