If you ask three random bloggers how much it would cost them to build a new blog in 2021, you'd most definitely get three different answers…
This is because the cost to create your first blog depends on a few different factors…
Your current technical, writing, and design skills
How quickly you want to scale (grow an audience)
The amount of free time you can spend working on your blog
How comfortable you are investing money in your blog
In other words, you can save a LOT of money if you're:
Fairly comfortable with technology and marketing already
Don't mind scaling slowly at first
Have a decent amount of free time to devote to creating your blog
In theory, you can start a new blog in this manner for around $3-5/month. This will get you basic hosting and a domain name.
If you want a few more tools to help you scale faster, for instance, a professional website builder like Elementor, a prosumer email marketing tool, and basic design software, like Canva or Photoshop, you're looking at more like $55/month.
Eventually, if your blog grows, you will need to invest more money for faster hosting to support more traffic to your website, a bigger mailing list, and more sophisticated blogging tools.
As I go through this article more in-depth, I'll point out how much the basic (or starting) blogger will likely need to spend, vs a mid-range blogger, vs someone who is blogging at a more professional level.
Click the links below if you'd like to skip to a specific section of this post:
How Much Will Blogging Cost You?
At the simplest level, the chart below analyzes how much it costs to build a blog in 2021 for basic vs mid-range vs professional bloggers.
If you're completely new and are just dipping your toes into blogging, I recommend getting started with a basic plan for at least a month. Don't rush into buying a bunch of tools and software just because an "expert" told you to, or because they use the same tools. Make sure that blogging is something you enjoy before you go "all-in."
Literally, all you need to pay for to get started is hosting and a domain name. This is the least risky option for getting started with professional blogging.
Basic Blogging

Expect to pay roughly
$60/year or $3-5/month

Mid-Range Blogging

Expect to pay roughly
$650/year or $55/month

Professional Blogging

Expect to pay roughly
$5,000/year or $400/month

This includes a WordPress install on a hosting platform like Bluehost and your own ".com" domain name.

Note that hosting providers will require you to pay a year in advance which works out to around $60-$100 a year depending on the specific package and hosting provider you choose.

Free tools like MailChimp and Canva free can be used to help scale your blog until you feel comfortable investing more.

$3-5 for hosting & domain name
$50/year for Elementor (~$4/month)
$29/month for ConvertKit (supporting up to 1,000 subscribers)
$13/month for Canva – basic design, stock photos, and social media scheduling

$100/month for dedicated hosting (necessary to consider if your blog's traffic grows to more than 5,000 visits a month)
$50/year Elementor ($4/month)
$119/month for ConvertKit supporting 10,000 subscribers
$13/month for Canva
$52/month for Adobe Professional (for creating more professional images, videos, and ebooks)
$150/month advertising on Facebook, Google, or Pinterest
These costs assume you already own a working decent laptop which is necessary for blogging.
So, more or less if you're a beginner, you're looking at $5-$50 a month depending on how much you want to invest in extra tools to make things easier in the beginning.
Professional bloggers will need to spend more and more money over time to grow, but at this point, they're making money from their blog to support the extra expenses. If you're just getting started blogging, don't let those numbers scare you. They're only necessary as bloggers need to support more traffic and subscribers because their blog has been successful.
Ok, so now that we've covered the overview, let's go into a bit more detail so you can make a more informed decision on which blogging tools you need…
Blogging Hardware Costs & Recommendations
At the bare minimum, you'll need a decent laptop to get started with your blog. If you already have a laptop that can handle word processing programs and Internet browsing this should be good enough to get started with a basic blog.
But, if all you have is a cell phone or tablet, you'll probably need a laptop to be successful.
Why? Blogging involves a lot of writing. Without a dedicated keyboard, you'll struggle to keep up with your thoughts using only two fingers and a touch screen.
Here are a few well-reviewed entry-level laptops from reputable brands to check out:
Google Pixelbook Go – if you're mainly using cloud storage and using your laptop mostly for writing and basic image editing, you can get this sleek lightweight laptop for as low as $649. It weighs only around two pounds and boasts up to 12 hours of battery life.

Microsoft Surface Pro 7 – (plus keyboard) – this is a great option if you prefer browsing on a tablet device in your free time but also need something more powerful for blogging. The flagship model currently costs $769 on Amazon. It also runs Windows 10 Home as opposed to a mobile operating system ensuring laptop-level productivity.

The Surface Pro 7 will arrive looking like a very large tablet, so you will need to also invest in a keyboard cover to make it easier to write. These run $100 for an officially licensed Microsoft product.

MacBook Air – If you're a Mac lover, this is a solid starter laptop from Apple. It's one of the cheaper Apple options out there. It currently costs around $899 on Amazon. Meanwhile, an entry-level MacBook Pro with similar specs will cost you ~$1,199.

Unfortunately, the iPad Pro is not as ideal for bloggers because it doesn't run the same operating system as Mac computers. This means you may not be able to run all of the programs you need for your blog.

Blog Hosting – What is it, and How Much Does it Cost?
Aside from a laptop and Internet connection, the only thing you need to get started with a blog is hosting and a domain name.
Hosting is essentially paying someone to store your website on the Internet and make it accessible 24/7. Shared hosting, like what you get with Bluehost, is ideal for beginners. It's affordable and can always be upgraded later if necessary.
Basic and Mid-Range Hosting Costs
You can get a domain name for free for the first year you sign up with hosting in many cases. I recommend Bluehost's program for beginning bloggers. It's the cheapest option I've seen that gives you everything you need to get started.
For around $5/month you'll get your own ".COM" domain name, and an SSL certificate, and hosting at a decent speed for your new blog.
The main reason I like Bluehost for beginning bloggers is how easy it is to get started with WordPress. It comes pre-installed and Bluehost will walk you through everything you need to do to get your website up and running.
If you're highly technical and comfortable spending a little more, Digital Ocean is an affordable option. But you need to have experience with installing WordPress on virtual machines from scratch.
Professional Blogger Hosting Costs
As bloggers grow and start to get heavier traffic on their websites, they need to upgrade to dedicated hosting. This does cost significantly more though. Not just in terms of the hosting, but you'd likely need to pay someone to set up your hosting professionally. You're looking at more like $50-100 a month minimum for this level of hosting.
Don't worry though, this is something you don't need to worry about upgrading to until your website starts to get a lot more traffic (around 5,000 visitors or more a month).
Your Blog Domain Name Costs
A domain name is your address on the Internet. Two popular domains you've likely heard of are Facebook.com and Google.com.
Luckily for beginners, many hosting packages include a domain name for the first year. However, after the first year, a domain name will cost $10-$18 a year to renew. Make sure to read my post on choosing a great domain name if you haven't already!

I recommend purchasing your domain name from your hosting provider if possible. They're usually free for the first year and most will automatically tie your domain name to your hosting account. Buying a domain name separately involved having to edit DNS records which can be intimidating and confusing for most beginners.
However, if you do need to buy your domain name separately, Namecheap.com is the cheapest option with a good reputation that I've come across.
Blog Design Costs
There are two main products you will need to help you with making your blog look professional.
A website builder (I recommend Elementor)
Image design software (I recommend Photoshop and/or Canva)
Website Builders
A website builder makes it easy to quickly build pages on your blog with a drag-and-drop style editor. If you don't have coding experience, this is essential for making your pages without needing to invest in fancy themes.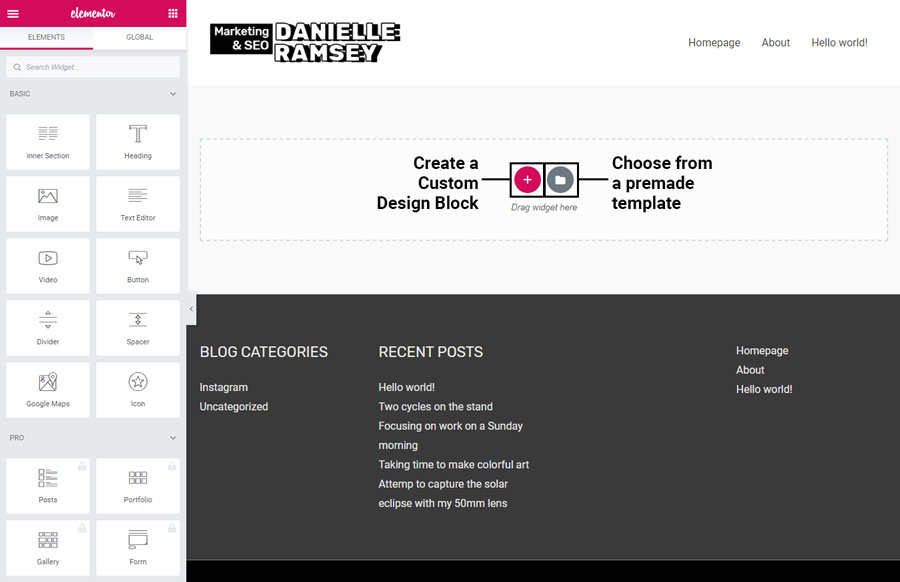 Elementor has an amazing free version, however, if you're serious about blogging, I recommend the pro version which is only $50 a year. This is a fairly cheap upgrade to your blogging stack that will make life a lot easier.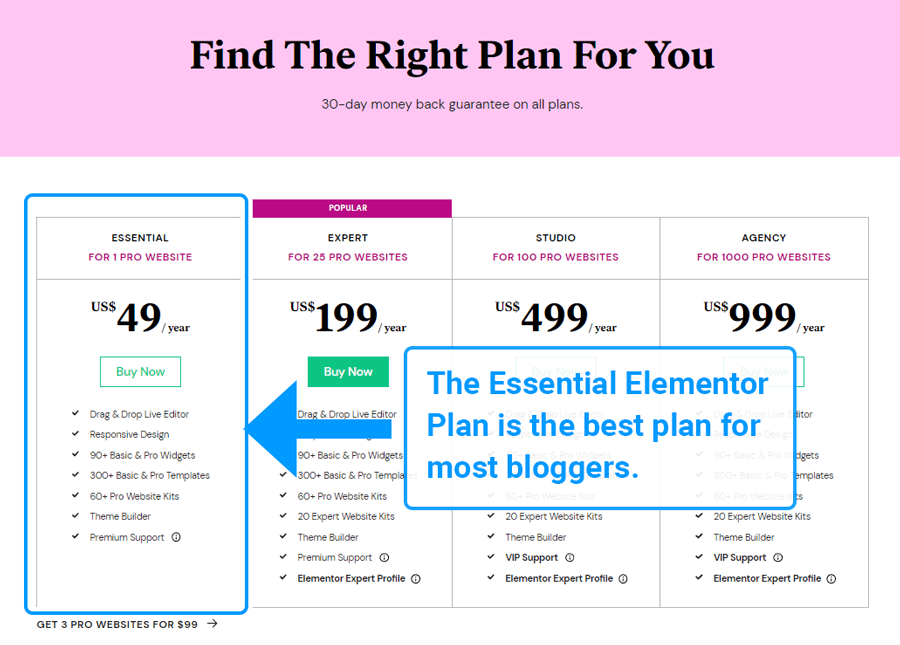 The second most popular blog-builder today is Divi. Divi costs either $89/year or $249 for a lifetime license.
I've used both Divi and Elementor extensively for professional websites I work on in my "day job" as a marketing manager and consultant. I almost exclusively recommend Elementor for its ease of use and ability to get started with a free plugin. Elementor is also cheaper.
Divi is also good, but not quite as intuitive, and tended to slow down my websites more than Elementor.
Image Design
As you build a blog and begin writing articles, you also need to think about keeping your readers' attention with images that support your posts. There is also the need to design featured images for your blog posts and social media images that will help drive traffic to your articles.
If you have no experience with Adobe products like Photoshop or Illustrator, then Canva is probably your best option for designing graphics for your blog.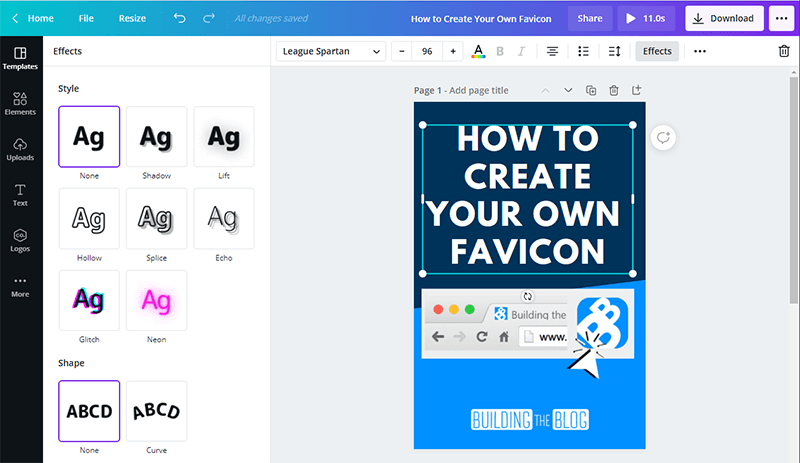 Canva does include a free version, however, if you have no experience with design and aren't a photographer, Canva Pro for $13/month is a great option. Not only does it include premade templates and stock photos and videos, but you can also use it to schedule social media posts.
Alternatively, if you're a rockstar designer, Adobe Photoshop will cost you $10/month and the entire Adobe Suite is around $55/month after tax.
Not sure if you need Canva or Photoshop? Check out my blog post on Canva vs Photoshop to learn more about the pros and cons of each design program.
Lately, I've been using both. Canva is ideal for pumping out designs for simple social media posts very quickly. But when I need to create more advanced images I turn to Photoshop.
Writing Tools
If you've ever used a computer before, you're probably familiar with Microsoft Word, or at the very least Google Docs.
I store all of my blog post drafts using Google Docs before publishing them to my WordPress blog.
The best part of this? Google Docs is free, assuming you don't hit the storage limits – which is pretty hard to do if all you're doing is store word documents. If you're hooked on Microsoft Word and don't own it yet that will cost you either $69.99/year or $6.00/month for a personal license to Microsoft 365.
My other essential writing tool? Grammarly.
Grammarly is a free browser add-on and desktop app that has saved me from making embarrassing typos countless times.

There is also a premium version that will automatically make your text more readable and catches more advanced writing errors.
Advertising Costs for Bloggers
I wouldn't recommend advertising to anyone just starting their blog and/or completely new to marketing. If you don't know what you're doing, it's easy to waste money very quickly on Facebook and Google ads. But, as you start to grow your blog, you can use advertising to multiply your success.
Once you start to predictably get 1,000 visitors a month and you have a product to sell, consider retargeting these visitors with Google or Facebook ads. Repeat visitors are more likely to convert to your website than new users.
This is an expense to consider investing in as your blog grows. You can spend as much as you can afford on advertising. But, a few hundred dollars a month is a good place to start as you perfect your strategy.
Other Potential Software Expenses (Nice to Haves)
Email Marketing
Building a list is key to turning visitors into fans and repeat visitors to your blog. A lot of bloggers will also tell you it's key to selling your products (assuming that's your ultimate goal).
Today, there are more options for email solutions than you can imagine. Luckily, this means email marketing is more affordable than ever and includes many free options.
There are big players out there that are too expensive for bloggers – InfusionSoft, HubSpot, and Pardot are just a few examples of email platforms designed for larger enterprises. They'll obviously still sell to you, but you'll be massively overpaying.
If you're just starting with email and have 0 subscribers, do not spend more than $50/month on email marketing. This is all you should need. And, if you're completely new to blogging/digital marketing and don't want to invest any money, MailChimp or ConvertKit are both good free options.
If email marketing platforms offer free options, why would you ever need to pay?
Typically, free email platforms only allow for basic email blasts, limit how many subscribers you can have, and include the email platform's logo in all of your emails (not a professional look).
This may be fine if you're just starting out, but email marketing is one of the first things I invested in for the following reasons:
The ability to create email workflows. Email workflows allow you to send out a series of emails automatically whenever someone subscribes on your blog. You can create different subscription forms so that you tailor email workflows to your subscribers interests. This results in higher open and click rates.

This is the #1 reason to upgrade to a paid email plan.

Better deliverability rates. Like many who have worked in marketing I have had my fair share of experience with MailChimp, the defacto go-to free email marketing solution. The problem is, because MailChimp is so well-known and loved it's used by EVERYONE. In my opinion, this has negatively impacted their ability to get to my subscriber's inboxes.

Custom forms and landing pages. Being able to customize forms and landing pages is very important to improving conversion rates (the rate at which someone signs-up or buys something). Generic forms make it more difficult to do this.
I chose to invest in paid ConvertKit, an email platform designed specifically for bloggers and creators.
ConvertKit's product is also being built specifically with bloggers and creators in mind. This means new features will align with what most bloggers and creators are looking for. For example, ConvertKit recently announced that users can now sell products with the platform – something many bloggers look to do.
Social Media Scheduling
As you begin your blog, there is a good chance you'll want to set up some social media profiles to go with your new blog brand. It will help you be more efficient and consistent if you schedule your posts ahead of time with a social media management tool.
Luckily, there are a few free options for this purpose. You don't need to worry about spending money on these tools until your blog begins to gain traction.
Buffer (Free)
Later (Free)
Tailwind (Free)
And, if you decide to get Canva Pro, you can use their social media scheduler for more premium features. I've recently upgraded to Canva Pro and this is one of the reasons why. I can now use this instead of Tailwind to post to Pinterest and it saves me $15/month.
Miscellaneous Expenses to Consider
There are a few other expenses to consider as you work on your blog. Whether or not you need these tools depends on your overall strategy with your blog:
SEO Research Tools – SEMRush (my personal favorite), AHREFs, and Ubersuggest range in price from roughly $50-$100/month. Using these tools won't automatically make your SEO results spike through the roof though. You'll need to understand SEO basics to get value from these tools.\
Course Creation Tools – Teachable is the most popular course creation tool. There is a free plan, but to get all of the features you'll need to invest $29/month.
Professional Email – I invested in GSuite for around $6/month so I can have my own branded email (danielle@buildingtheblog.com). Having a branded email helps when you're applying for affiliate programs because it makes you look more professional.
What to Invest in First?
If I were to give someone starting their first blog advice on what to invest in first, I would suggest software that will make your life easier as you create your blog.
Blog Hosting/Domain Name ($3-5/month) – This is the only thing you really need to get started. I recommend Bluehost because you can get a WordPress set up with them in no time, get a free SSL, and a free domain name for your first year. Despite being priced monthly, most hosting providers actually require an annual payment. The longer term you choose, the longer you get the cheaper introductory pricing.
Elementor Pro Essential ($50/year) – This will make designing your blog so much easier, is cheaper than most alternatives, and is continually be worked and improved upon.
Canva Pro ($13/month) – Free Canva is great, but with Canva Pro you get access to a huge library of stock images and videos. This alone is worth the $13/month and has made my life significantly easier. Additionally, Canva has a social media "Content Planner" that can replace paid tools like Tailwind or Buffer.
The three things above are all you need to create a beautiful blog at an affordable price.
Next Most Important Blogging Investment?
As soon as you start your blog, I'd also recommend the free version of ConvertKit. MailChimp is also a good free option.
Once your blog is built and you start getting some traffic, email workflows are one of the best ways to get people to come back to your website. When you start getting more traffic to your website, upgrading to paid ConvertKit would be my top recommendation.
Not only is it a great email marketing solution, but you can also use it to sell products and create landing pages.