So, you're thinking about starting a blog but you're not sure what topic to blog about? This article will show you how to choose a blog topic that you're not only passionate about, but others will want to read as well.
You're not alone. Choosing a topic (or niche) is the first big decision you need to make when starting your blog, and if you get it wrong it means lots of wasted time and effort.
That's why it's important to get it right the first time and set yourself on the path to success.
One of the most common mistakes I see new bloggers make is choosing a blog topic because they think it will make them money.
Here's a quick harsh (but true) reality check: your readers don't care how much money you make. They care that you provide them value.
If you know nothing about a subject, or focus all of your content around obvious sales pitches you're not going to be successful because you're not going to have an audience.
People don't want to be sold to. But, they do want to be taught or entertained by someone they trust.
That being said, if you do want to eventually make money or build a large following you will need to pick a topic that can attract an audience.
But, no matter what, you need to choose a topic that you can provide value around.
Using the "Ikigai" Method for Choosing a Blog Topic
Ikigai is a Japanese word/philosophy that roughly translates to "Reason for Being."
It's gained popularity in recent years for helping people discover their passion in life. The idea is, by fulfilling all four quadrants of the ikigai model, you'll find your life's (or in this case blog's) purpose and meaning.
I've adapted the concept of ikigai to help you decide on the perfect blog topic.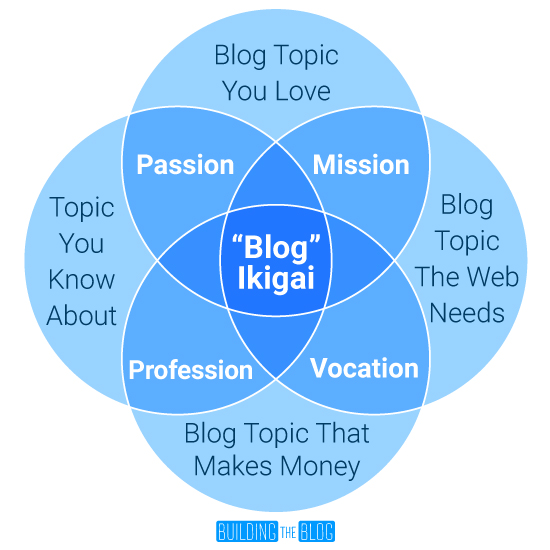 Choose a Topic You Know About
To be able to provide value on a topic you need to have some level of knowledge on it.
You don't need to be a top tier expert, but you should have more than above-average knowledge on the subject and the ability and desire to learn more about the topic over time.
Think about things people ask for your advice on. This is a sign that you're considered a trusted source on the topic.
Choose a Blog Topic You Love
As you brainstorm blog topics, think about your passions and hobbies. What do you like to do with your free time? What do you enjoy learning about?
You want to choose a topic you'll continue to be interested and curious about over time.
This will help keep you from giving up or getting bored with your blog. Success won't come immediately. A lot of bloggers devote 1-2 years of grinding out content before they see a large amount of success.
There are exceptions, but your blog will mostly likely be a marathon and not a race.
Choose a Blog Topic the Web Needs
Make sure that your topic isn't so obscure that no one is searching for it online.
You want to make sure that your blog topic has an audience.
A great way to tell is by using a keyword research tool to see how many monthly searches a keyword gets. I recommend the free tool Ubersuggest for beginners.
For example, maybe you're interested in creating a blog on growing bonsai trees. You might try researching how many searches "how to grow a bonsai tree" gets on Google.
Try this for several topics you're interested in and see which ones get the most organic searches.
This is a good frame of reference for how popular the topic is on the web.
Choose a Topic that Can Make Money
Just about any topic you choose will be able to make money if you're able to attract a large enough audience.
But, as a general frame of reference, people are most willing to pay for a topic that will help them do one of these things:
Make or save money
Improve their physical appearance (weight loss/ beauty / fitness)
Save time (can you provide a shortcut to learning something)
With that in mind, my opinion is, a money-making blog topic should be the least-important decision factor out of the four elements of blogging "ikigai."
Need Some Topic Ideas?
Here are a few blog topic ideas along with some sub-topics to help get your creative juices flowing.
This is not an all-encompassing list, but should give you a place to start:
Health & Fitness – Paleo Diet, Yoga, Female Bodybuilding, Essential Oils
Gardening – Terrariums, Vegetable Gardening, Bonsai Trees
DIY & Crafts – Origami, Scrapbooking, Knitting
Education – Grade School Lesson Plans, Homeschooling
Home Decor – Mid Century Modern, Industrial, Bachelor Pad
Art & Design – Doodling, Photoshop Scrapbooking,
Books – Self-Help Book Reviews, How to Create Audiobooks
Food & Drink – Fancy Cocktails & Shots, The Science of Food
Fashion & Beauty – Women's Thrift Store Tips, DIY, 5-Minute Makeup Routines
Travel – Budget Travel, Historical Travel, Unique Restaurants/Bars of the U.S.
Video Creation – Editing, Budget Lighting, Phone Videography
Photography – Film, Phone photography, budget photography
Writing – Bullet Journaling, Copywriting, Self-Publishing
Pop Culture – "B" Movie Reviews, Puzzle Video Games (Twitch), Board games
Pets – Cat Training, Best Organic Pet Treats (Recipes)
Should You Niche-Down or Niche-Up?
A lot of bloggers will tell you that you should niche-down when you choose your blog topic.
I actually disagree that you should start with the niche-down strategy (especially for beginning bloggers). When you're beginning, it's not easy to predict which blog posts you write will be most popular.
Niching-down too much can actually make it harder to find your audience and your voice.
I recommend starting with a broader topic and producing a variety of content. As you create content over time you'll be able to see which content is resonating with your audience the most.
From here, you can niche-down and create more content that's similar to your most popular posts.
Start your blog by creating as much content and value for your audience as possible.
What Do You Do After You Choose Your Blog's Topic or Niche?
Once you know what you want to blog about the next step is to choose the perfect blog name and domain.
If you're interested in learning more about how to choose a blog name/ domain name for your new blog, check out my 10 Tips for Choosing an Amazing Blog Domain Name.
Join the "Build My Blog Bootcamp"
Learn how to set up and completely customize your own beautiful blog in this free 5-Day email course.